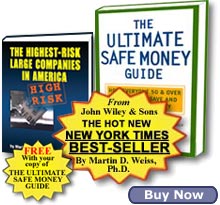 Thousands of investors pay $15.00 each for WEISS SAFETY RATINGS on banks, brokers, and insurance companies.

...But you get 128 of these important, highly respected safety ratings — worth $1,920 in all — FREE — in your copy of THE ULTIMATE SAFE MONEY GUIDE:
The 30 Safest BROKERS in America — PLUS the 9 Weakest


The 24 Safest BANKS in America — PLUS the 19 Weakest


The 25 Safest INSURANCE COMPANIES in America — PLUS the 21 Weakest
... PLUS Valuable Worksheets And Planning Guides To Help You Safely Grow Your Wealth In These Tricky Times:
5-Minute Self-Test Spotlights Investments You Own — But SHOULDN'T: Are your investments TOO RISKY for you? Are you TAKING enough risk to give you the returns you need at this time in your life? Find out fast — with the Weiss Risk Self-Test! ...Page 270


Long-Term Care Planner: This comprehensive worksheet guides you through the maze of long-term care and helps you select the policy that's best for you ...Page 306


How To Get The Best Deal On Insurance: Step-by-step worksheet guides you faultlessly to the best policy at the right price! ...Page 308


And MUCH More!