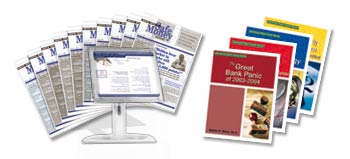 Get $1,415 Worth of Free Gifts and Discounts with your 100% risk-free Safe Money investor service trial membership!

This is a watershed moment. Three paths lie before you:
1)
You can bury your head in the sand … ignore my warning and offer to help … and get fleeced — AGAIN — in 2003.
2)
You can keep your money on the sidelines and grumble about the measly 1% returns CDs and money market funds give you.
3)
Or, you can TAKE CONTROL of your investments — and get the guidance and advice that keep your money safe and introduce you to the investments that are already soaring 99% … 144% … up to 307%!
THE CHOICE FOR YOU IS CLEAR!

Join me in my SAFE MONEY INVESTOR SERVICE and get an unprecedented $1,415 WORTH of FREE tools and discounts!
A bargain at its regular two-year membership price of $389, I'm offering
NewsMax
readers my
SAFE MONEY INVESTOR SERVICE
at half-price,
SAVING YOU $189
right off the bat!
That's just 26 cents a day — one eighth the cost of a single cup of Starbucks coffee — for expert guidance to protect all of your investments! Each month, from now on, you'll get the
SAFE MONEY REPORT
— the money-making, money-saving backbone of my
SAFE MONEY INVESTOR SERVICE:
I'll help cut your losses and boost your profits with updated Weiss Risk Ratings for your stocks and mutual funds. With these exclusive ratings, you'll ALWAYS know which investments are the riskiest.
I'll help protect you from being locked out of your own accounts by devastating institutional failures with our exclusive Safety Ratings on banks, S&Ls;, insurance companies, brokerage firms and more.
I'll help you anticipate — and PROFIT from — significant market movements with clear, unhinged monthly updates using my Weiss Early Warning System — your best defense against falling stock prices! This proven proprietary system gives you a crystal clear snapshot of the overall health of every major sector as well as the market as a whole.
Once the lion's share of your money is safe — and safely growing — you're in a position to turn a little molehill of cash into a mountain of money with The Weiss Windfall Strategy!
I'll help you SAVE BIG on brokerage commissions: SAFE MONEY REPORT is the only advisory in America that regularly surveys the commissions, service and safety of more than 600 U.S. brokerages. The savings you reap in one month or even one day can easily cover the full cost of your membership.
I'll help your CONSERVATIVE portfolio grow up to 12 times faster, crushing those measly 1% returns in CDs and money market funds. My "Mr. Conservative" portfolio has never lost a nickel in more than 30 years. And in 2002, it produced a 12.6% return! I'll give you clear "buy," "hold" and "sell" advice for every investment in every issue of SAFE MONEY REPORT.
If you're comfortable investing part of your nest egg in more speculative investments, we can REALLY kick your wealth-building into high gear with more SPECULATIVE investments that soar up to 172%!
PLUS, your RISK-FREE membership comes complete with all of these powerful tools — FREE:
It's the BEST 100% RISK-FREE trial offer EVER!
THE SAFE MONEY INVESTOR SERVICE
is guaranteed to save you — or MAKE you — an ABSOLUTE MINIMUM of $5,000 extra dollars in the next 12 months OR IT'S FREE! Take a full year to decide for yourself. You must be absolutely delighted with the profits you earn — or just let me know and I'll rush you a full refund of every penny you paid. PLUS, even after the first year, you can cancel at ANY TIME WHATSOEVER for a FULL REFUND on the unused portion of your membership. And of course, everything you've received in the meantime is yours to keep — completely without cost or obligation — in the unlikely event that you decide that my service isn't for you.